Ballot Box is on display at 21C Louisville Museum and Hotel until January 2021
Book a free gallery viewing reservation

HERE

.


---
Taylor Sanders
Guessing Game
Installation
Mixed media
2020

Guessing Game focuses on literacy tests that were given to African Americans before being registered to vote during the Jim Crow era. Guessing Game combines the playfulness of an impossible guessing game to real and impossible literacy tests. This guessing game is a large jar full of gum balls that you would generally see at a birthday party or baby shower. The participant who can guess the number of gum balls closest to the actual amount wins a prize. Fun, right? Well in this case, the people who can guess the correct number of gum balls can vote. Guessing Game calls attention to the ridiculousness of literacy tests that were given to African Americans beginning with Jim Crow laws, which successfully restricted many African Americans from voting.

Images
---
Taylor Sanders
Denied
Installation
Mixed media
2020

On election day, many voters are proud to wear the "I Voted" sticker or wristband given after voting. This piece removes the pride and happiness of being a voter, and focuses on a group of people who are not able to participate in voting. The redesigned sticker directs the spotlight onto inmates and formerly incarcerated people. Mass incarceration is a system in the United States that was created to criminalize people and make profit. Because of biased systems, like the police force and the justice system, African Americans are incarcerated more than any other race. One in every three African American men in the United States will serve jail time at some point in their lifetime. Because this system affects African Americans the most, there are many laws that restrict them from voting because of their criminal record, or because they are currently serving time during elections.

Images
---
Taylor Sanders
Empty Stomachs
Installation
Brown paper bags
18 ft x 4 ft x 11 in.
2020

Many students depend on school meals to eat breakfast and lunch, therefore during school breaks these students go without balanced meals. During this Covid-19 pandemic, innumberable students are left at home with emtpy stomachs. Empty Stomachs is an installation arranged in a West Louisville neighborhood. This specific neighborhood is considered a food desert. The paper bags in the installation are emtpy and represent the many students going without balanced meals while living in a location where there aren't any fresh produce grocery stores near by. People of color are more likely to live in poverty, especially in urbans settings like Louisville so, POC are often affected the most. This installation was created to spread awareness and is a call to action: How can we continue to fight child hunger? Can we build more grocery stores in places that need it?
Images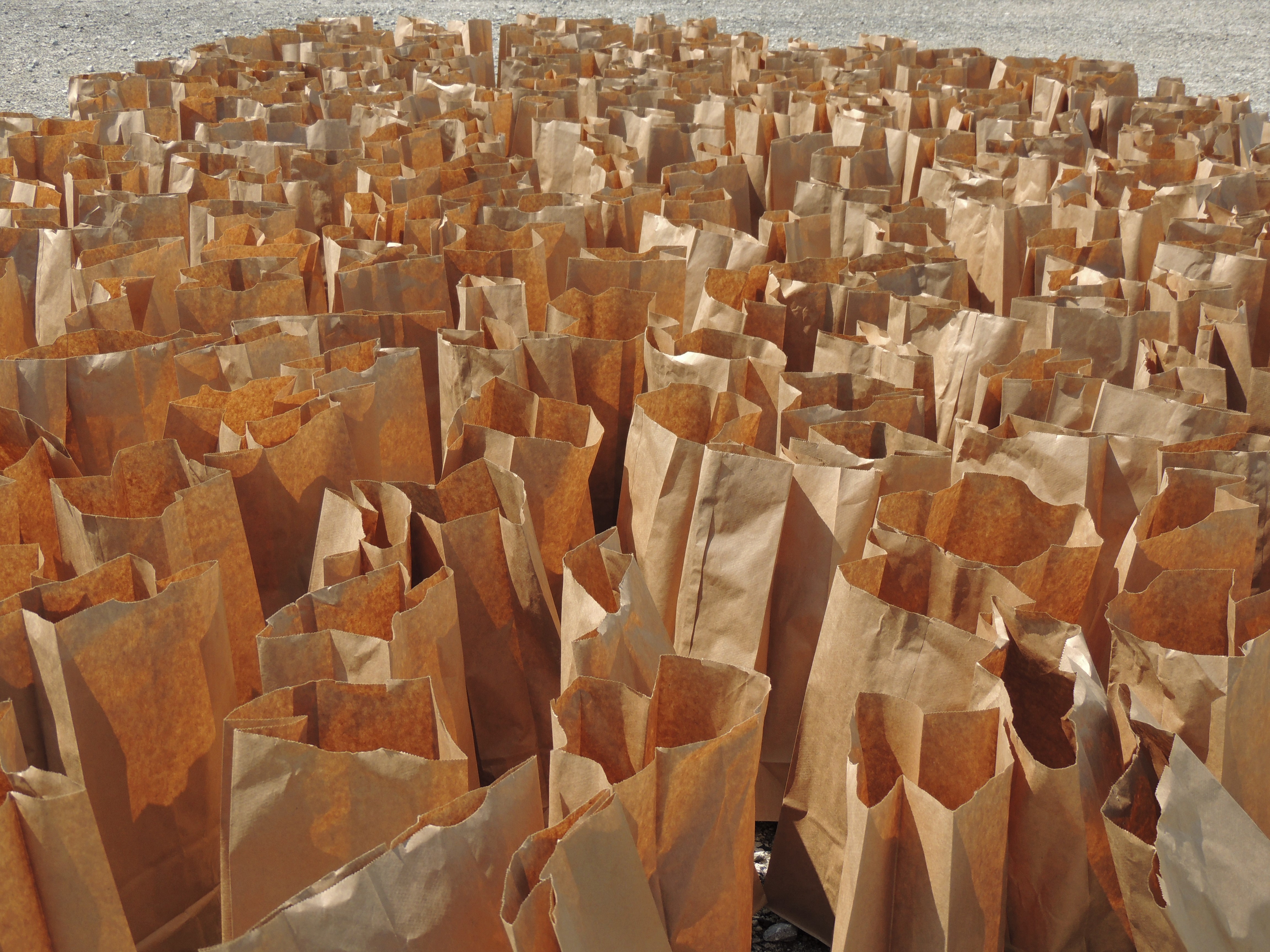 ---